El Dia Europeu de les Llengües fou proclamat el 26 de setembre de 2001 pel Consell d'Europa, amb el suport de la Unió Europea. El seu principal objectiu és fomentar l'aprenentatge d'idiomes a tota Europa.
En aquest dia s'organitzen una sèrie d'esdeveniments a tota Europa, activitats per a nens i nenes, programes de ràdio i televisió, classes d'idiomes i conferències…a totes les escoles.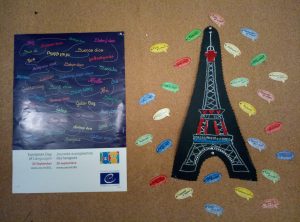 Salesians Badalona també ha volgut participar de la Festa de les Llengües. Aquí teniu algunes de les activitats fetes:
Les élevès de français de 3r ESO ont travaillé les langues européennes.
Los alumnos y alumnas de 2 ESO hemos contestado MUY BIEN todas las preguntas del Kahoot.
The 1st ESO students have designed some fantastic posters. Look at them!!
No views yet
---