WE HAVE FINISHED OUR VIDEO PRESENTATION!!
Our group of PFI of Commerce have just finished the first activity of an international project with the school Lycée Polyvalent Don Bosco, Marseille, France.
Now we are waiting that they send us their video showing their school in Marseille and we are so excited to watch it!!
Although the speaking skill can be difficult for us, this activity has been a way to improve and overcome ourselves!
It's a big opportunity to communicate in English with another Salesian school.
We let you know about the next international activities that we have in mind for the next month.
KEEP WORKING WITH ENTHUSIASM!!!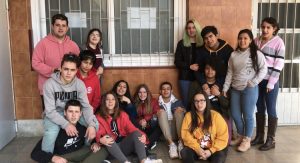 CLASS OF COMMERCE PFI